Education Principles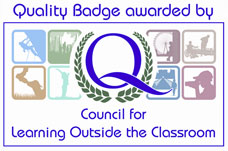 The Golden Hind is proud to hold the Learning Outside the Classroom Quality Badge. You can find out more about Learning Outside the Classroom.
The Golden Hind's education programme seeks to ensure that learners have a great learning experience from their visit to the ship. It aims, by focussing on relevant issues and themes, to give learners an insight into Drake's achievements and the lives of the men who sailed with him, and by doing so to shed light on some broader subjects such as exploration, the Tudor period, and social history.
Between 1577 and 1580 Drake and the crew of the Golden Hind became the first Englishmen to circumnavigate the world. In the course of the voyage they opened new trade opportunities to English merchants, asserted English maritime strength, and demonstrated the vulnerability of the Spanish Empire. Beneath these enormously significant events, however, there is the story of the men themselves, who undertook an incredible feat of endurance and succeeded in the objectives against all odds and in spite of the appalling conditions of day-to-day living. By exploring both the 'big' and 'little' histories of the voyage the education programme aims to ensure that each learner can understand how the lives of individuals can affect the course of history.
To achieve these ends a combination of four learning tools are used: informative signs and displays around the vessel; learner questionnaires designed to highlight significant points; well-informed team members ready to help learners; and artefact-based group discussions, in which learners are encouraged to explore the broad significance of a range of replica items relevant to the history of the Golden Hind.
These learning tools have been adapted to suit their use in exploring a number of themes related to the Golden Hind, and relevant to Key-Stage 1&2 study. Themes include: social structure, discipline and punishment, health and medicine, food, daily routine, skilled and unskilled work, money and property, and sources of information.
Risk Assessment Information
We are fully committed to ensuring that pupils visiting are protected and kept safe from harm. We provide safety and hazard information to help organisers ensure that they are satisfied that the ship is suitable for their group, and to assist in briefing the group before their trip. Download the Safety and Hazard Information.
School Visit Frequently Asked Questions:
Please download the Schools Frequently Asked Questions.
School Questionnaire:
Download the worksheet, the answers to which are found around the ship. Answer sheet available to teachers.
A useful additional Sir Francis Drake resource is Michael Turners' 'In Drakes Wake'