The Original Golden Hind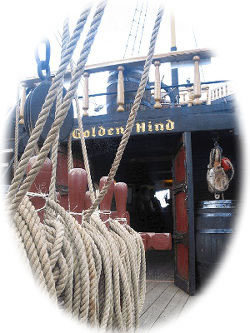 The keel for the original Golden Hind Ship was laid and registered in Plymouth in 1575.
It was a ship commissioned by Drake for his 1577 journey. It was not a sophisticated ship, but a classic example of a mid 16th century warship during the transition from the carrack to the galleon weighing around 120 tons. The Golden Hind was fast and highly manoevrable in battle and able to be taken (and hidden) in small ports around coastal waters.
After the world voyage 1577-1580 the ship was taken to Deptford, London for public exhibition in honour of Drakes remarkable achievement. It was the first 'Museum Ship' in the world.
In 1581 Drake was knighted onboard the Golden Hind, by the French ambassador, in the presence of Queen Elizabeth I - a piece of political shrewdness, Elizabeth could not be seen to condone a man who, to the Spanish at least, was seen as an arch-pirate.
The vessel remained there for nearly 70 years where she eventually disintegrated due to the rains and weather and was broken up. Nothing remains of the ship except a chair carved from its timbers, which can be seen in the Bodleian Library in Oxford. The remains of the ship is still believed to be located at 'Convoys Wharf' a large former Tudor shipyard in Deptford, London,
Drake's journals and maps of the circumnavigation were embargoed by the Queen, as documents of national importance, later believed lost in a palace fire. They contained materials of national importance, including his routes ane ports, plus Drake's failed attempt to find the fabled 'North West Passage' back to England across the top of North America.
For more on the original ship refer to the Golden Hind Guide book available from the onboard shop or kiosk.